Standin' on the Corner Festival, Bangor – 4th – 6th May 2018
Written by Big Hits on April 17, 2018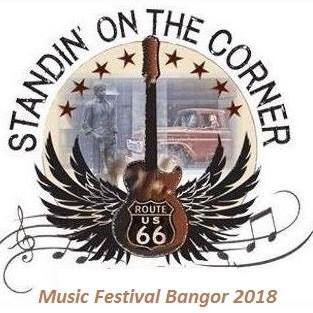 Listen to Andy Kane's interview with Festival Organiser Peter O'Kelly here…  
Early last year a friend sent me a post on Facebook about a statue of Glen Frey just put up in Winslow Arizona. After some research I discovered that there had already been a statue on the corner of the same street erected in 1994. This one was resembled Jackson Browne who wrote the lines "I'm standin' on a corner in Winslow Arizona, such a fine sight to see" from the song Take It Easy which was finished off by Glen and became their first hit.
In the nineties as an effort to rejuvenate the town, they decided to capitalise on the lines of the song and together with the statue a Flatbed ford was placed on the street and reflected in a mural on the wall opposite. The Standin' On The Corner Park was created beside all of this.
I also discovered they had a festival of music and cultural events there every year in September and thought to myself we could have one here in Bangor.
I got in touch with the people of Winslow and told them of our plans and received the unanimous endorsement from their committee. They sent me over signed posters of the mural, postcards, beer tokens, koozies (drink coolers for tins) and three leftover T Shirts.
We decided on the May day Bank holiday weekend, the festival will comprise of music sessions in the bars and the main event will feature the well known Eagles tribute band The Illegals in the Royal British Legion on the Saturday night with full support and supper.
There will be a live video link to Winslow where half a dozen locals will entertain us with their version Peaceful Easy Feeling and enjoy our concert live will on a big screen outside Tom McCauley's Route 66 Trading Post close to the statutes.
Also a Miss Flatbed Ford and Desperado and contest will take place for the western outfits.
We are the first outside Winslow to host this event and have the official endorsement of the Standin' On The Corner Foundation. We are furthered honoured to have committee member Mr Greg Hackler from Winslow is our guest.
Tickets for the main event have been selling well, other acts include the Esteemed John T Davis, Colin Henry, Mike Robinson and the end of festival party will be hosted by Johnny Bravo.
So come along to Bangor, stand on the corner and take it easy.
Peter, Festival Organiser
---